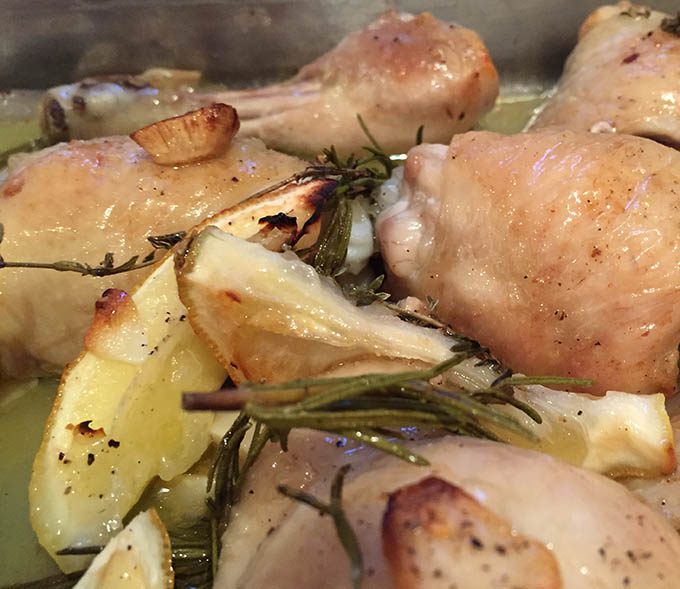 For this the very first recipe published on my blog, I have opted for one of my favourite fall back recipes that I often turn to when I want something quick and easy. The great thing about this recipe is not only does it make a great mid-week meal, it tastes good enough to share with friends when entertaining informally. You can easily up the ingredients to cater for larger numbers. It's simple but does rely on using good basic ingredients. I always use free-range chickens, yes they cost a bit more but I really do think they taste better (and lets not go into animal welfare). For the most yummy tasting juices, use a good quality olive or cold-pressed rapeseed oil and fresh herbs.  It really is that simple and delicious.
To make the dish all you need to do is prepare all the ingredients and pop them in a roasting tin.  You can prepare it up to this point up to 24 hours in advance, cover and keep in the refrigerator.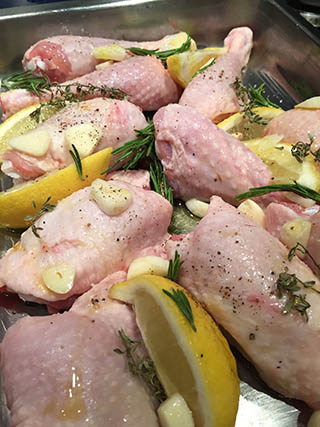 Then when your ready simply uncover and pop the tray in the oven and bake for 35-40 minutes or until the juices from the chicken run clear when pierced with a skewer.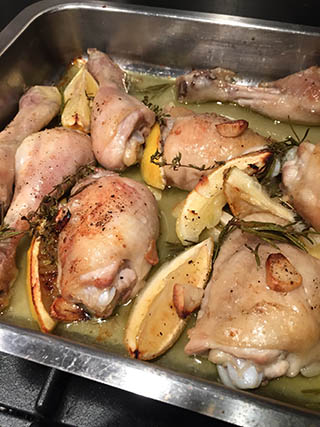 Lemon, garlic and herb baked chicken
Yield 4 people
Oven baked chicken portions flavoured with lemon garlic and herbs. Quick and simple to prepare, this dish is perfect for a quick mid week meal.
Ingredients
4–6 chicken drumsticks
4–6 chicken thighs
1 lemon unwaxed, cut into wedges
4 cloves garlic, cut into slices
few sprigs fresh rosemary
few sprigs fresh thyme
3 tbsp extra virgin olive oil or
cold pressed rapeseed oil
Instructions
Preheat the oven to 190ºC/180ºC fan/gas mark 5. (375°F)
Place the chicken pieces in a shallow roasting tin, tuck the lemon wedges and sprigs of herbs in between the chicken pieces and scatter the garlic slices over the top.
Drizzle the oil over the chicken and season with salt and pepper.
Roast in the oven for 35–40 minutes or until the juices from the chicken runs clear when pierced with a skewer.
Serve with the juices spooned over.
Notes
I serve this with new potatoes, crispy potato bites or rice with a simple salad or green vegetable, just depending on how the mood takes me.
Courses dinner
Nutrition Facts
Amount Per Serving

Calories 395

% Daily Value

Total Fat 22 g

34%

Saturated Fat 3 g

15%

Sodium 373 mg

16%

Protein 46 g

92%
* Percent Daily Values are based on a 2,000 calorie diet. Your daily values may be higher or lower depending on your calorie needs.