As I write this post it is National Barbecue Week and just for once the British weather is playing ball with a fair bit of sunshine. Which made me think "what can I cook on the barbie?". BBQ Spatchcock Garlic and Herb Chicken served with a salad and new potatoes is just the sort of barbecue meal I love.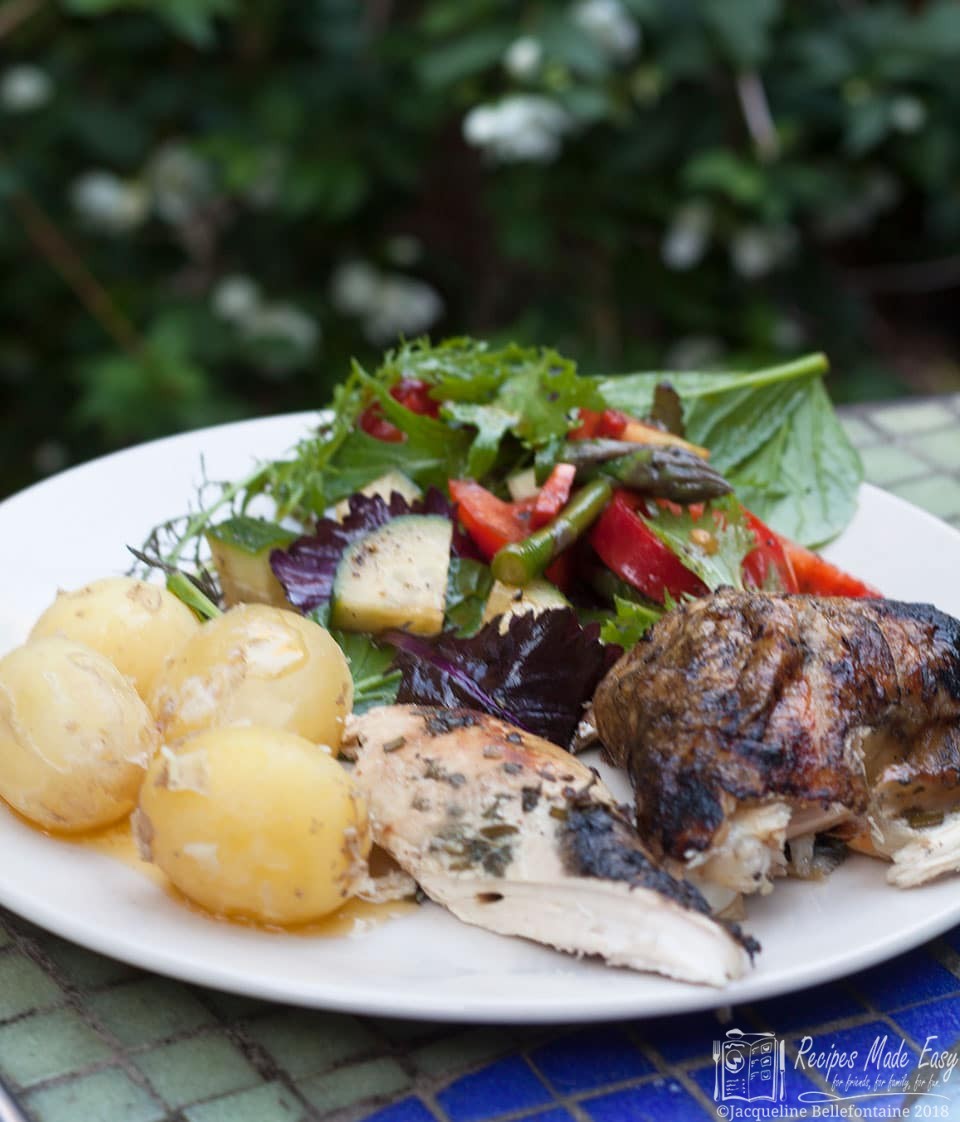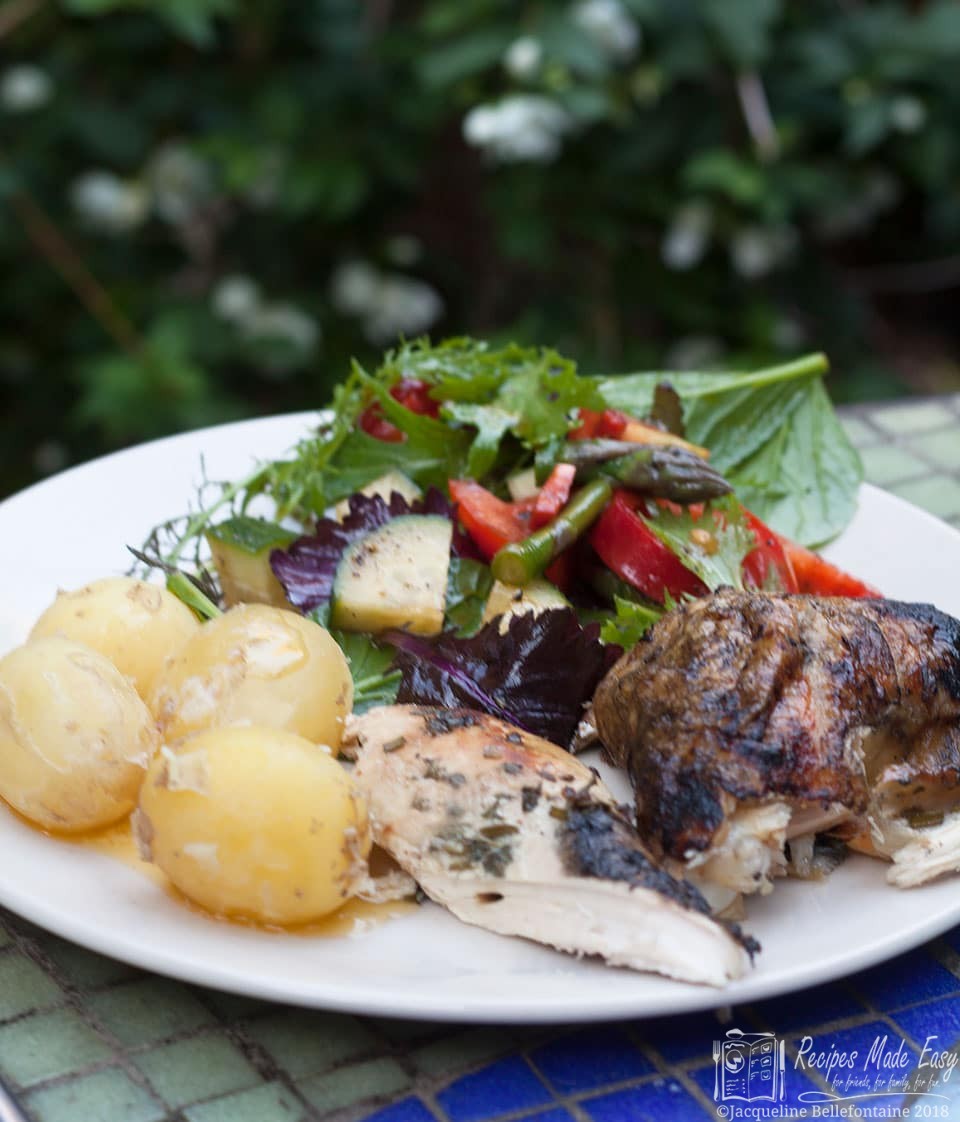 Print Recipe
I can't help it, but as soon as the weather warms up I like to eat and cook outside. Mr B often helps in the kitchen but when it comes to cooking outside he leaves me to it. This is probably not the norm for most households, but  I don't mind. I love cooking on the barbecue. The "What's Cooking – Barbecue and Salad", book that I wrote some years ago was my favourite book to write.  What's not to love about Barbecued food?
The Firemizer – a review
When the people who make firemizer asked me to test it out on the barbecue I was happy to oblige. Firemizer was originally designed to reduce fuel consumption in fireplaces and woodburners. It works by slowing the airflow down to reduce the burn rate of the fuel and conducts the heat evenly across the fire to ensure all the fuel is fully combusted.  These features that can be put to your advantage when barbecuing too.
I like to cook whole joints of meat on the barbecue which is made easier by having a barbecue with a lid. The coals are placed down the sides of the barbecue and the lid keeps in the heat so that it acts like an oven but with that lovely smoky barbecue flavour on the meat.  Not everyone is lucky enough to have a barabecue with a lid but by spatchcoking (flattening and spreading out) chicken it is possible to cook a whole chicken on the barbecue even without a lid. I thought this would be a great test for the firemizer as I would need to keep the coals burning for longer and have an even heat.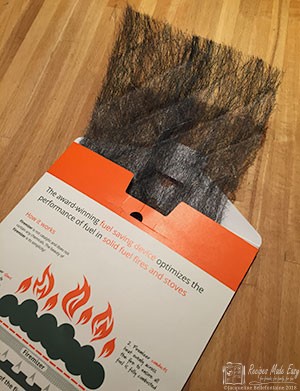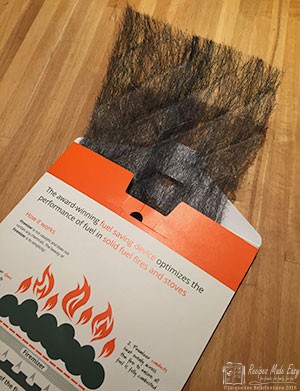 When you take the firemizer out the packet it is a good idea to wear gloves as it is made of metal fibres. The firemizer is placed in the bottom of the barbecue.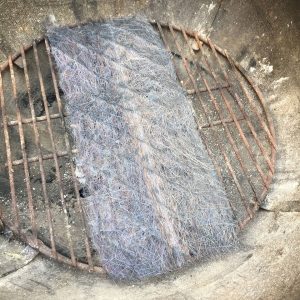 The coals are then lit. I use a chimney starter which I definitely recommend. They make lighting the coals so much quicker and easier.
Look closely and you can see that I actually light the coals  in the barbecue before adding the firemizer. This was a mistake as I then had to hold the chimney starter full of hot coals while I put the firemizer in place. So make sure you put it in first.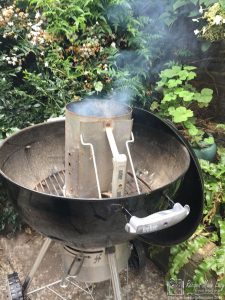 Once the coals are lit they were tipped out onto the firemizer for the barbecuing to begin.
Pros and cons
To be honest, I can not say that there was obvious big difference using it for this one test.  But as a general observation the coals appeared to burn more evenly and the spread of heat did seem more even. The coals did also seem to last longer.
To me, the biggest drawback of the firemizer was the size and shape. It didn't really cover enough of the base of my barbecue to get a good spread of coals to cover the whole rack. So the main advantage of the even spread of  heat over the whole of the cooking surface would have been diminished. To avoid  this I would have needed two firemizers and at nearly £20 a pop you would need to do a lot of barbecuing to justify it. Of course, if you have don't have a round barbecue like mine or yours is smaller this is not going to be a problem.
Having said that, if I was hosting a large barbecue party and wanted the coals to last over a long period of time, I think it would be worth shelling out for two. Constantly topping up the coals can be a drag and you seem to have long period when the coals are either too hot or too cold for optimum cooking. Reducing this would definitely be a plus.

Verdict
If you do a lot of barbecuing the firemizer could make a good investment both for the even spread of heat, and to reduce the amount of coals used – the cost of which can add up, so if you do a lot of barbecuing you may get your money back. Either way think how much better that is for the environment!
The firemizer lasts for up to 500 hours, so I have left it in place and will continue using it over the summer. I do have a open fire at my holiday cottage and would like to try one for there come winter as I think the advantages would be more noticeable. For barbecuing I am still not fully decided.  I shall pop back and put an update to the post at the end of the summer and let you know if it has changed from a "could be" to "definitely worth shelling out"!
Step by step BBQ Spatchcock Garlic and Herb Chicken
BBQ Garlic and Herb Spatchcock Chicken
Spatchcocoking the chicken allows you too cook a whole bird on an open barbecue. The garlic and herb butter under the skin adds flavour and prevents the breast from becoming dry during the cooking.
Course:
barbecue, Main Course
Ingredients
40

g

butter

(1½oz)

2

cloves

garlic, crushed

2

tbsp

chopped fresh mixed herbs

about 1.5

kg

whole free-range chicken

(3lb)
Method
Beat the butter, garlic and herbs together.

To spatchcock the chicken place on a board breast side down. Using sharp scissor or poultry shears, cut along the length of the back bone. Open out the bird as much as possible and turn breast side up. Press down firmly to break the breast-bone and flatten the chicken.

Lift the skin from the breast of the chicken. Take care not to to tear the skin as you do so. Spread the garlic and herb butter over the the breast under the skin.

Thread 2 skewers diagonally through the bird to hold it flat. Grill breast side up for 25 minutes over medium hot coals.

Turn the chicken over and cook breast side down roast for 20 minutes. Turn back over and check to see if the chicken is cooked (see notes) and continue cooking if required.
Recipe Notes
It is important to check the chicken is fully cooked.  The meats juices should run clear when pierced with a knife. If there are any traces of pink to the juices cook for longer.
The best way to check is with a thermometer.  The minimum temperature at the centre of thickest part of the bird should be 75℃/165°F.
Nutrition Facts
BBQ Garlic and Herb Spatchcock Chicken
Amount Per Serving
Calories 498
Calories from Fat 333
% Daily Value*
Total Fat 37g 57%
Cholesterol 156mg 52%
Sodium 198mg 8%
Potassium 394mg 11%
Total Carbohydrates 2g 1%
Protein 35g 70%
* Percent Daily Values are based on a 2000 calorie diet.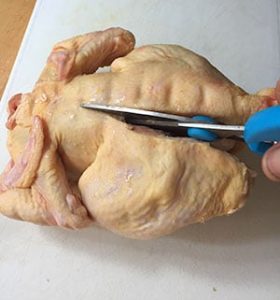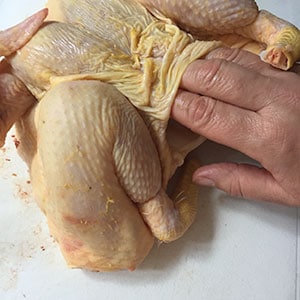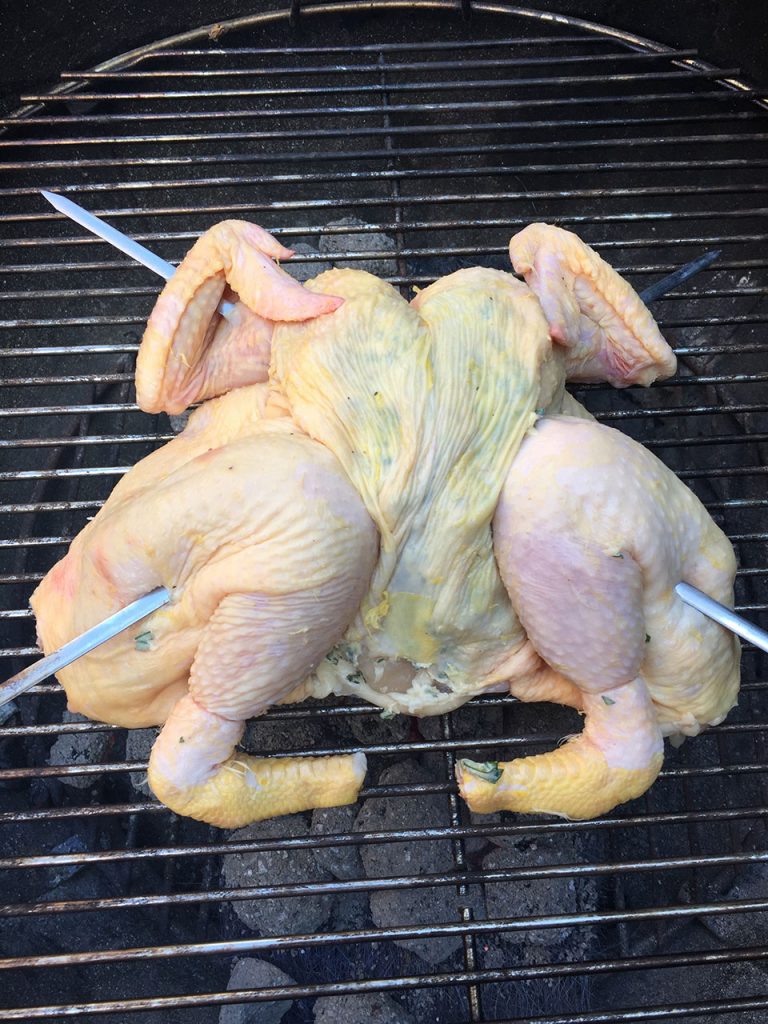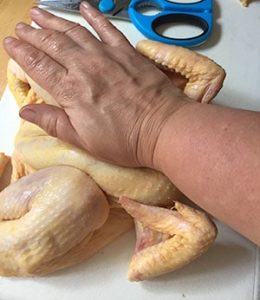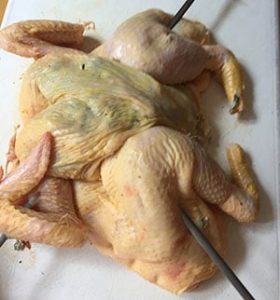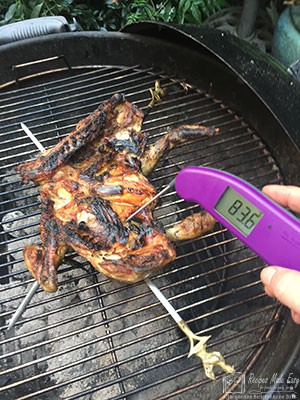 Nutrition Facts
BBQ Garlic and Herb Spatchcock Chicken
Amount Per Serving
Calories 498
Calories from Fat 333
% Daily Value*
Total Fat 37g 57%
Cholesterol 156mg 52%
Sodium 198mg 8%
Potassium 394mg 11%
Total Carbohydrates 2g 1%
Protein 35g 70%
* Percent Daily Values are based on a 2000 calorie diet.
Hints and Tips
I used a cornfed chicken but any chicken will do.
Use whatever fresh herbs you have to hand. I used a mixture of rosemary, thyme and parsley.
If the melting butter causes the flames to flare up, supress them with a water mister (the type you use to spritz your house plants).
Invest in a thermometer to ensure food is cooked but not over cooked. (Sorry, I know I have said this before but it really can transform your barbecue cooking.)
Disclaimer
I was given a firemizer for the purpose of reviewing.
As always, all opinions expressed are my own and I will only ever review products I would try myself and that I think are a good fit with Recipes Made Easy.