These delicious savoury pancakes filled with creamy garlic chicken and mushrooms would make a perfect supper dish on pancake day, or any other day! The filling is easy to make and ideal for using up any left over roast chicken.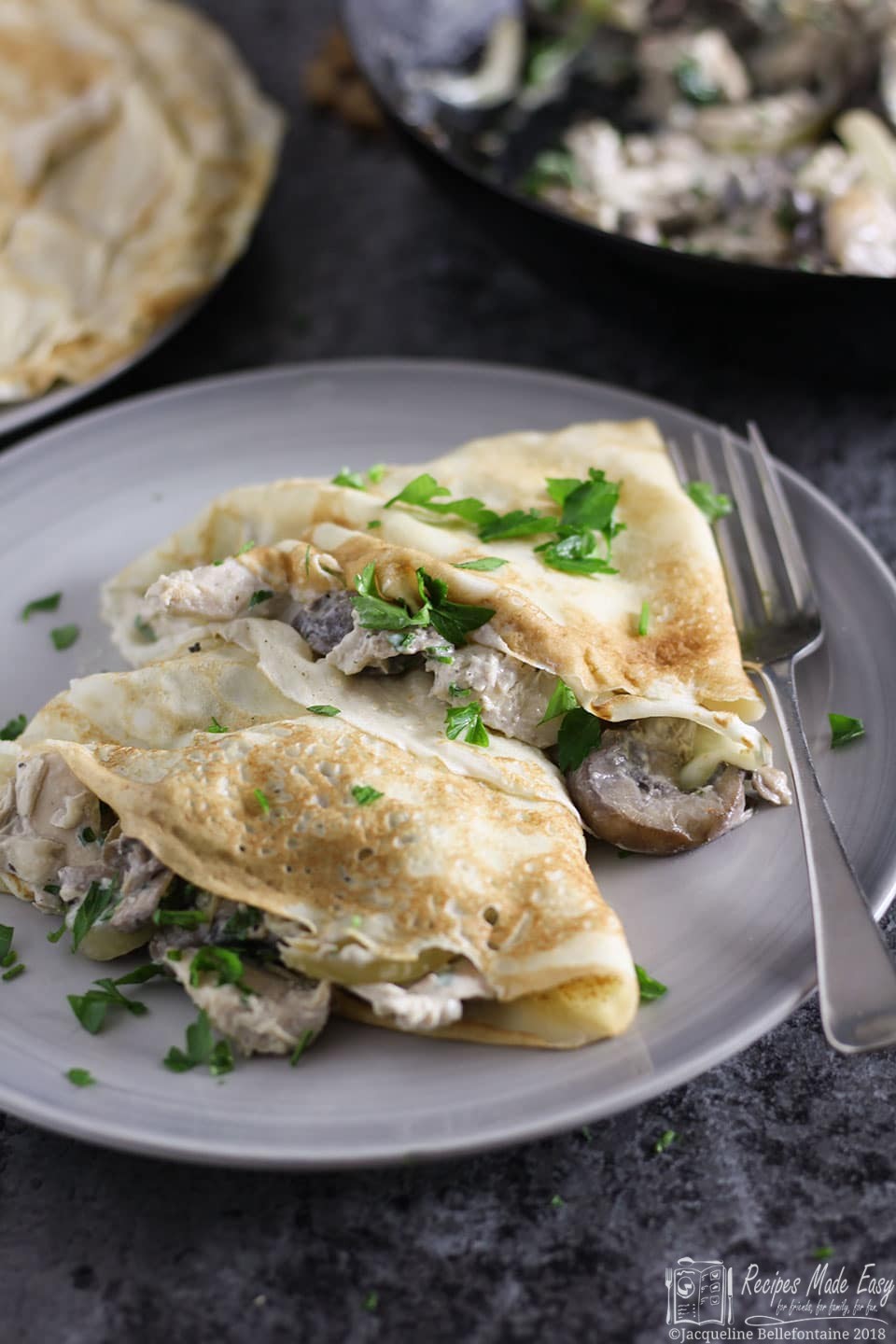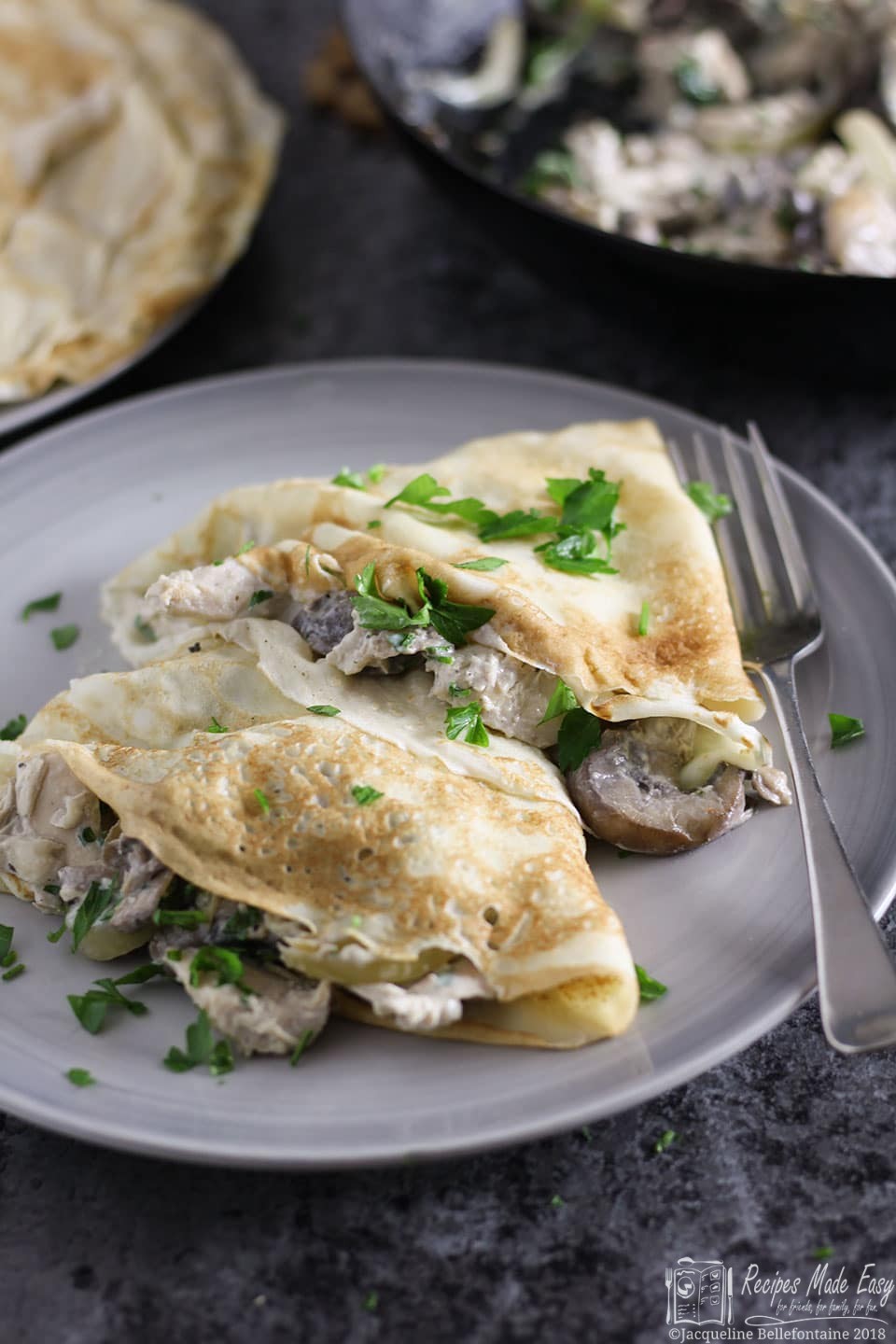 Next Tuesday is Shrove  Tuesday, also known as pancake day. So today I am sharing my recipe for a simple, easy to make, and absolutely delicious savoury chicken filling, perfect for pancakes with you.  Last year I posted my step by step method How to Make Pancakes  so there is no excuse. If you haven't made pancakes before I am sure you soon will.
As I said in my post last year, my favourite pancakes are simple ones served with lemon and sugar and that is what I usually serve on pancake day. However, I am also very partial to a savoury pancake every now and then. The creamy garlic chicken and mushroom filling in these is a case in point. Ideal for using up chunks of left over roast chicken, and it makes for a fabulous supper dish. I also like to serve pancakes as a starter, in which case I would serve one per guest.
If you fancy trying something different this year, I am pretty sure you are going to like these.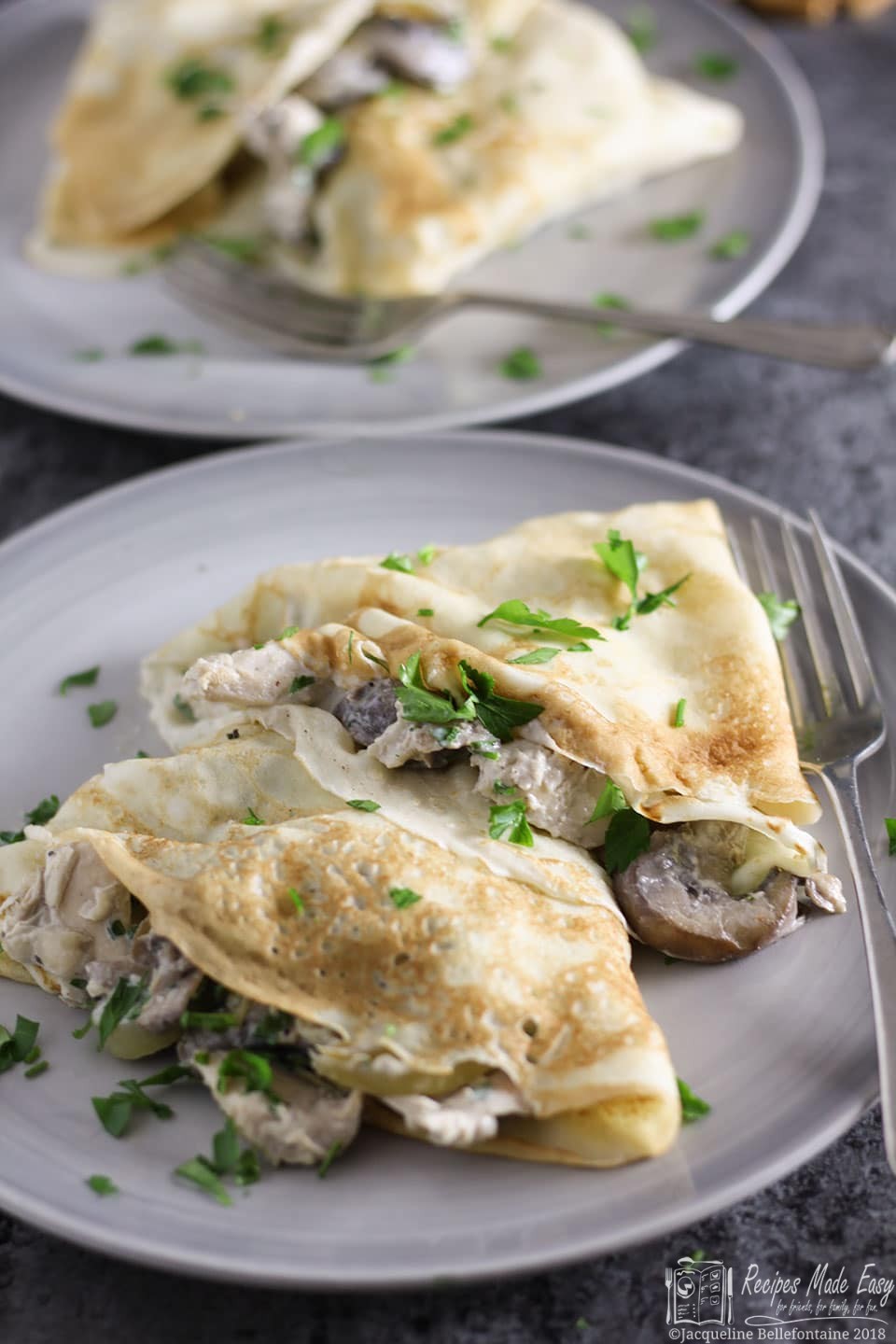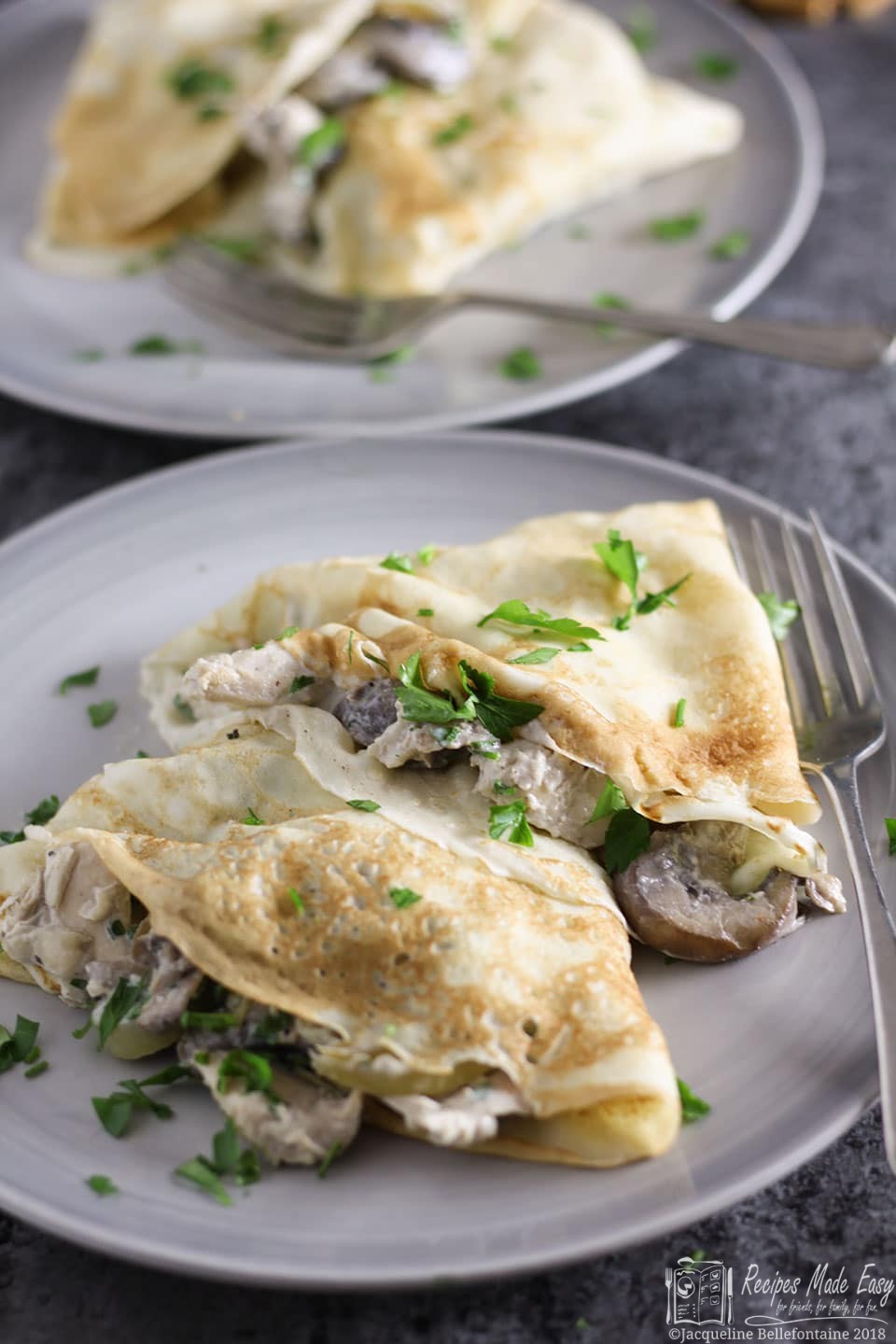 Pancakes with creamy garlic, chicken, and mushroom
Yield 4 servings
Delicious savoury pancakes filled with a creamy garlic, chicken, and mushroom filling. 
Serves 4 as a light meal, or 8 as a starter.
Ingredients
Pancakes:
100g/4oz (~¾ cup) plain flour
2 eggs
300ml/½ pint (1¼ cups) milk
oil for frying
Filling:
1 tsp vegetable oil
25g/1oz (2 tbsp) butter
1 onion, sliced
1 -2 cloves of garlic, crushed
200g/7oz mushrooms, sliced
225g/8oz cooked chicken meat cut into bitesize chunks
2 tbsp dry white wine or chicken stock
150g/5oz (⅔ cup) light cream cheese
salt and freshly ground black pepper, to taste
Instructions
Make the pancakes and keep warm (How to Make Pancakes step by step.).
To make the filling, heat the oil and butter together in a frying pan and gently cook the onion until softened. Stir in the garlic.
Add the mushrooms and cook for 5-10 minutes until softened. Add the chicken.
Stir in the wine or stock and allow to bubble for a few moments, then stir in the cream cheese.
Heat gently, stirring until piping hot. Season to taste with salt and pepper. Stir in the parsley.
Divide the chicken mixture between the pancakes and fold up into triangles or parcels. Serve immediately sprinkled with a little extra parsley.
Nutrition Facts
Serving Size 2 pancakes
Amount Per Serving

Calories 328

% Daily Value

Total Fat 12 g

18%

Sodium 72 mg

3%

Total Carbohydrates 28 g

9%

Sugars 8 g

Protein 24 g

48%
* Percent Daily Values are based on a 2,000 calorie diet. Your daily values may be higher or lower depending on your calorie needs.
Prefer a sweet pancake recipe? In that case I'm sure you will love my Coconut and Banana Pancakes coming on Recipes Made Easy soon. These have the bonus of being gluten and dairy free so ideal for anyone on a restricted diet.
I'm linking up with